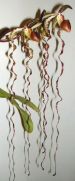 Last modified: March 10, 2012
Paph. micranthum
These are images of the Paph micranthum in my collection. I use either a clonal name, or an inventory number to identify the various clones. I have about 40 different micrathum, most have been with me for more than 10 years. A few bloom every 2nd or 3rd year, with predictable regularity. Most are more irregular in their blooming, often taking 5 or more years between blooms. About 1989 I had decided Paph micranthum was my favorite Paph, and that because they are slow growers and reluctant to bloom, if I wanted to see a couple bloom each year, I needed many different clones. Since most will fit nicely in 2 x 2 inch wide x 4 inch tall rose pots, they really don't take up much room. Some have graduated to 3 or even 4 inch pots, but even so, none of the micranthum are big plants.
My growing conditions are less than perfect, so the comments about number of years between blooms is what I am experiencing. A division of any one of these plants might be much more vigorous under somebody else's care, I don't know. But given that some of these have been with me since 1987, 1989 & 1994 means that I have had some 24 years of experience growing micranthum. The majority of the clones have been with me about 8 to 12 years, and some are just coming into their own as far as becoming multi-growth plants.
About origin of these plants. I do not import plants, I purchased these plants from reputable vendors in the USA, and the comments about origin are from remarks that the vendor made, some comments are more probable than others, but this information is anecdote, none of these are verified as to actual origin. I was assured by each vendor that CITES and USFWS regulations were followed. All plants are divisions of cultivars originating in the USA, of nursery grown stock.
# 21 March 2000 another of uncertain origin.

the vertical natural spread is a full 9.0 cm vertical, so it is a full size flower, the petals are rather large compared to the normal sized pouch.

# 204 March 2000 another of uncertain origin, suposedly Kwong See, China

This was a distressed blooming, the plant was not real healthy at the time. # 204 certainly has potential, the petals are nice an wide. 2011 it is back to a one growth plant, I hope it recovers to bloom again.

# 47 Jan. 2010 from Ten-man, came from a collection of a deceased COOS member. Growing on to go for CCM or CCE. We'll see if I can get more than 3 flowers at once or not. So far only one at a time.
# 227

June 1989

from Ray Rands, collected from Kwei Chou, China

One of my favorites, but slow to mature a growth, about 5 to 7 years on average.

upper left #285 Sept 1999

Flower fading at time of photo, see below for photo of fresh flower

lower middle #183

2/2000 was told this race was from NW Yunnan, China

right #227 June 1989

from Ray Rands, collected from Kwei Chou, China

# 149

July 1998

no location info available

This photo was a distressed blooming, does have a wide dorsal.

# 229

1/1987 from Ray Rands, no specific location info

My very first micranthum, and it is still alive. Not a vigorous plant, bloomed only twice in the 24 years.

# 238

micranthum var. eburnum

acquired 4/1994 from a local grower. This one I am pretty confident really did originate in Kwong See, China.

The foliage is rather dark, more a blue-black-ish green. Looks very dark in most light. The flash of the camera washed out the 'black look'.

new 3/9/2012

# 237

bought with #238 back in 4/1994 from a local grower. For plants from the same location, there is a striking color difference. This blooming is on a one growth plant, likely will be better next time it blooms.

This one I am also pretty confident really did originate in Kwong See, China.

Foliage is a little lighter than 238, as is the flower

# 285

Sept 1999, bought at same time as #330, both are likely the same geographic race.

#330

One of my favorites for easy blooming. Every growth blooms as soon as it is 3 years old. It has been shown at AOS judging, the small dorsal and petals are the reason it hasn't gotten an award. I like it in spite of its small dorsal.

This specimen regularly blooms with a snow white pouch. If the winter was cooler than normal it may show some pink.

Sept 1999, another said to come from Kwong See, China, I am not certain about origin.

Inv. #347

July 1998, this is originally from Orchid Inn. China origin.

7.5 cm wide x 9.5 cm vert. natural spread; petals 4.7w x 3.8 length, yes petals 1.0cm wider than long

Inv # 390

purchased this as Paph micranthum from Kwong See, China. I am not certain if this is really from Kwong See China.

March 2000,

Inv. # 1179

This plant is almost a dwarf, small plant, small flower. Form & color are mediocre at best, but it is different, so I keep it.

Plant imported by Ray Rands, no info about origin or year Ray imported them. Acquired from 3rd party 3/2002

bloomed only once in 2009

Inv. # 56

this clone is from Ray Rands, no hint as to origin

Flower is past its prime and starting to wilt. April 2009

new 3/9/2012

inv # 600

obtained single growth in 2005, no origin info

size is good, natural spread 8.4cm wide x 9.2 cm tall

dorsal is wide enough to fill between the petals. 2.9 wide x 3.0 cm length

colors are deeper than most of the others. This is first bloom for me, I expect improvement as it develops into a specimen. As of 2012 there are no divisions available of this clone

Inv. # 625

Taylor Orchids, 1991

no origin data, seems to bloom when growths reach 3 years old.

I only photographed the 3/2009 bloom, I remember this flower blooming flatter and more colorful in previous years.

inv. # 257

got this Feb 2000, alleged to be of the NW Yunnan, China race.

A very nice micranthum, colors are softer than I would like, but form & size is good. Plant is robust compared to typical micranthum. I have 2 big healthy growths as of 5/2011, hopefully spring 2012 will be a good blooming. Once every 5 years to bloom a growth is a bit slow, but worth the wait for this one.

same flower a week later