Last modified: July 05, 2013
Photo Gallery
A harbinger of Spring, a Flowering Quince, Chaenomeles 'Not Minerva'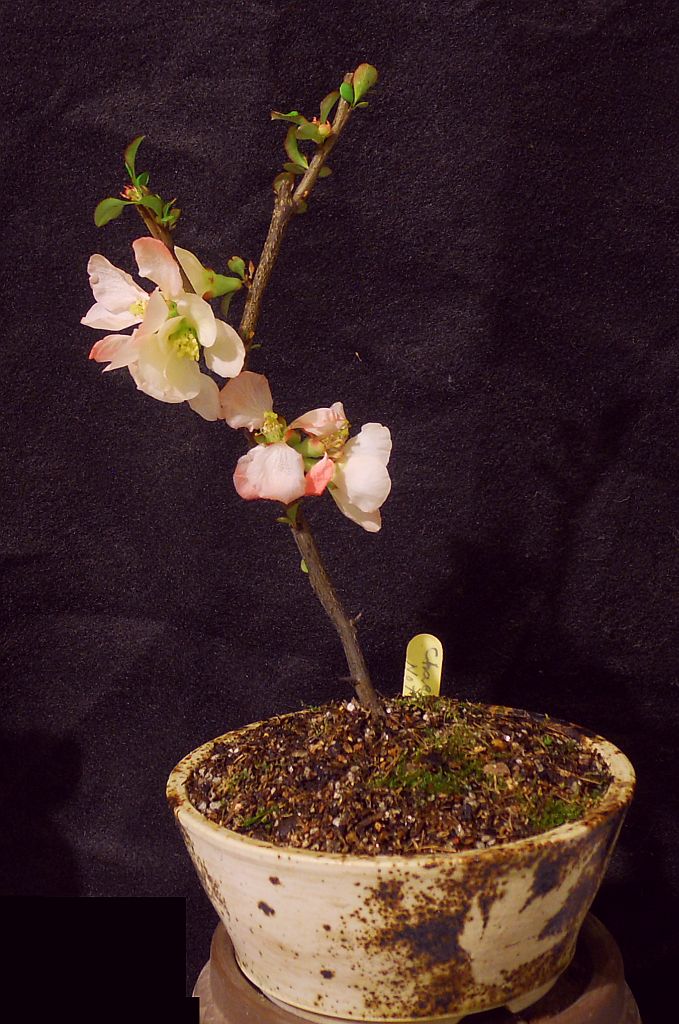 Chaenomeles 'Not Minerva' - Flowering Quince "Not Minerva"
Paph barbigerum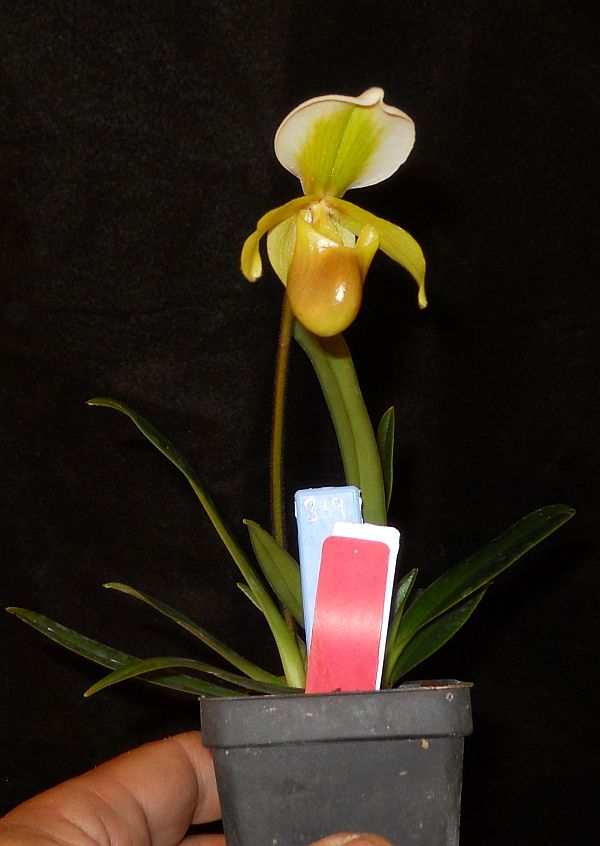 Paph barbigerum
This is a cute little thing, first bloom seedling from Ross Hella. small plant and flower. It will probably never need a pot larger than the one it is in, even as a multi-growth specimen. A compact 'tea cup' size Paph.
Paph lowii #294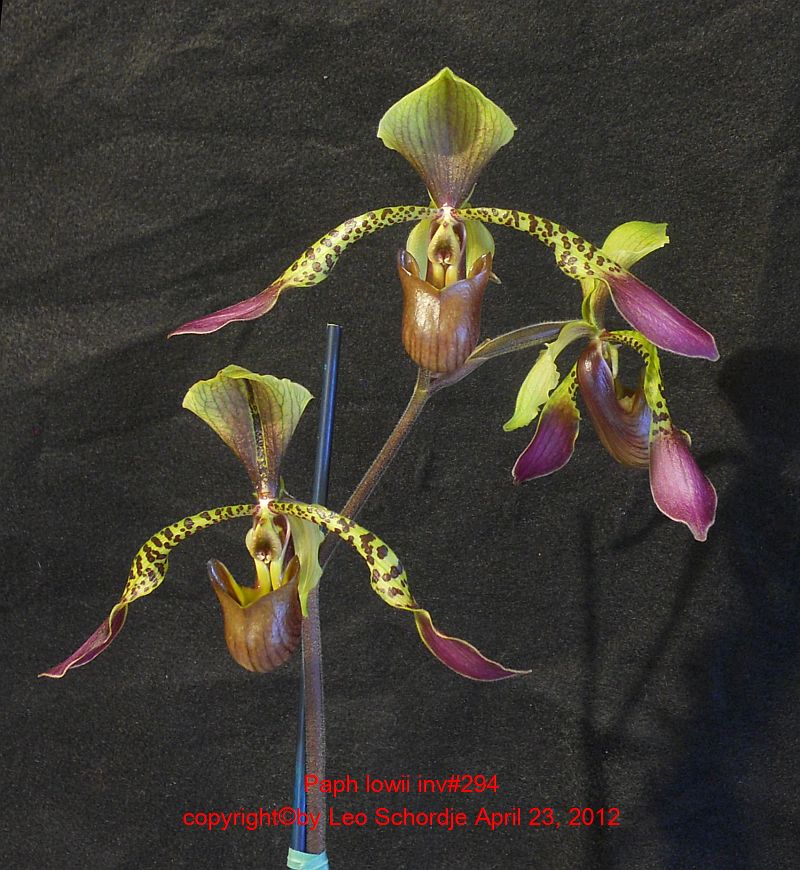 This is another orchid of mine that originated from seedlings produced by AnTec. Bob & Lynn really produced some nice Paphs over the years. I picked this one up this month in bloom from my friend Marilyn Ledoux at Windy Hill Orchids, Labadie, MO. Visit her if you have a chance.
Chelonistele sulfurea formerly known as Coelogyne sulfurea, lighter colored flower if the 2 clones I have. This is an easy to grow relative of Coelogyne and Dendrochilum, grow it moist and moderate shade as for Paphs or Phals.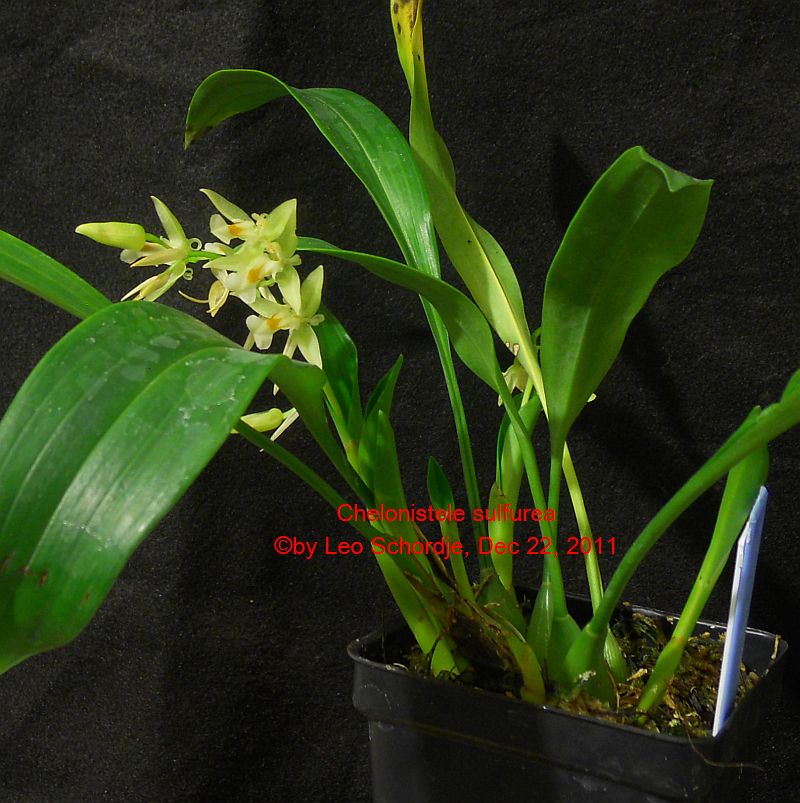 image requested by a friend, Paph armeniacum # 255, photo taken with flash April 2005. This flower is a full 10.3 cm natural spread.
Paph venustum var pynuvstanum - this is a division of a plant from the 'Defriese Road' collection, originally a 1976 Ray Rands import. There are many published varieties of venustum, most were published before WWII. These old varietal names most likely won't stand up to modern taxonomy standards, I don't know what makes this variety unique, but I do like this clone.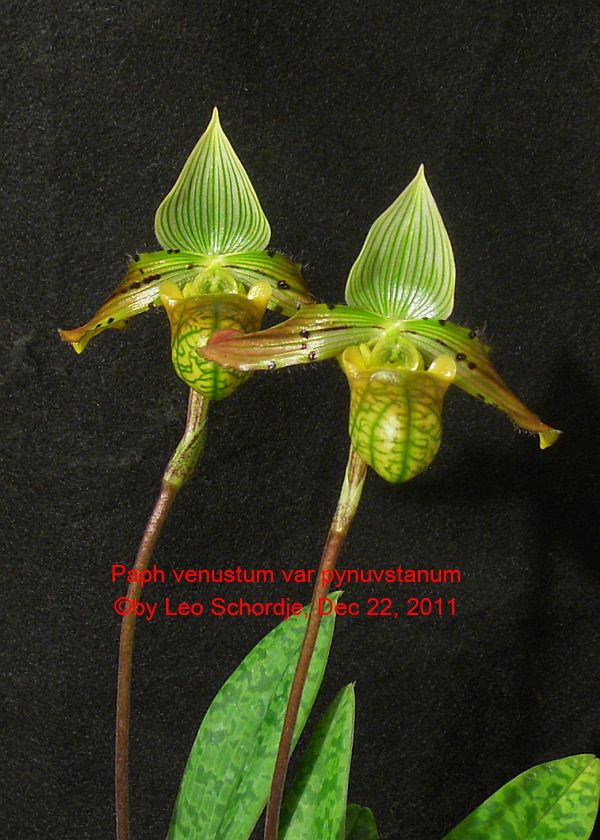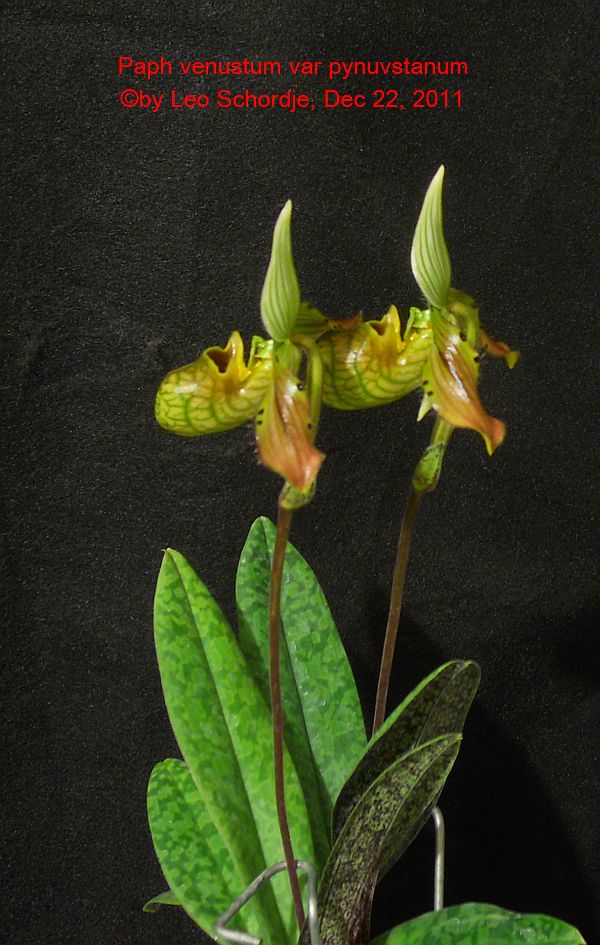 Storm damage 7/7/2011
Two very wild thunderstorms hit the house, Thursday evening 7/7 and at 8 am on 7/11. The Thursday night storm 7/7 hit the house with straight line winds of 94 miles per hour. This was a real fluke, the storm front was entirely over Lake Michigan, with winds and rain spreading inland no more than 5 miles. When the down burst hit the house all the trees bent down like a hand was pressing on them and shaking them. This is scary when the bent tree is over 50 ft tall. No twisting, so it wasn't a tornado that hit, but it was a powerful wind. Had a one ton branch crash down in the front yard, but it missed the house and missed my car. Lucky day. Oddly, we did not loose power. The pictures below are from that storm.
The Monday morning storm knock out power for 750,000 people in Illinois and at least 200,000 in Wisconsin. Big storm with an incredible amount of lightning. The lightning was so frequent that it seemed to be a constant rumble accented with ear splitting crashes. One 60 second clip has the sound of 3 lightning strikes that were within a quarter mile, the sound followed the flash by less than 2 seconds. Unfortunately my phone camera did not capture the deep bass roar of the storm, but it will give you an idea. Imagine the deep rumble so loud and close you feel it in your chest as much as the ears. 3 or 4 near strikes in one minute
one really close strike, note the interference just before the flash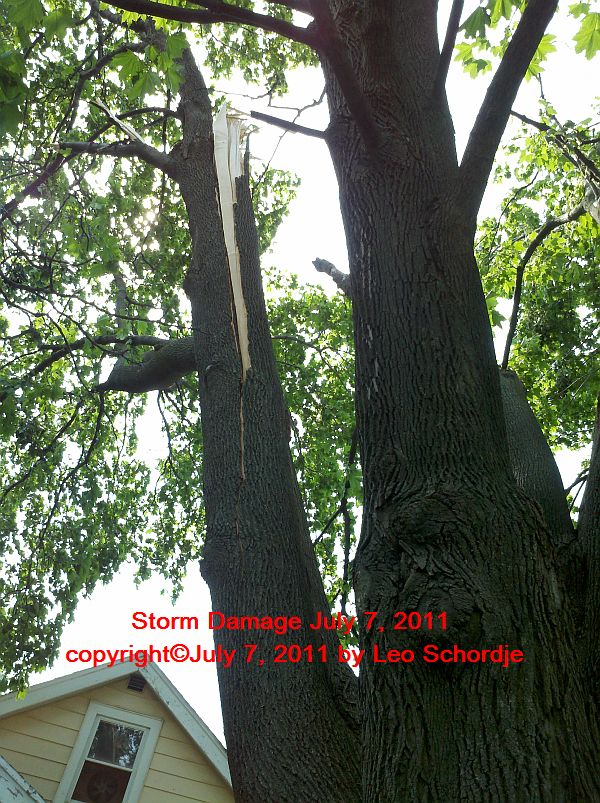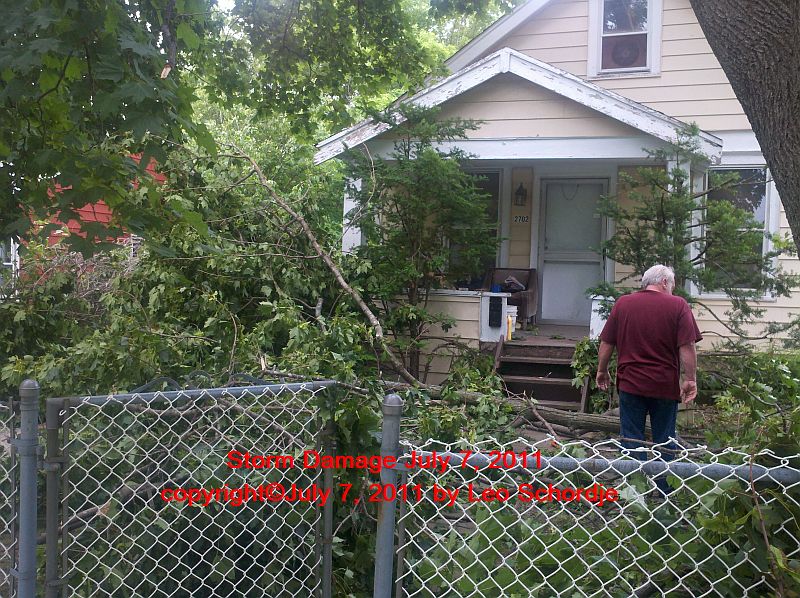 My father took up wood carving 5 or so years ago, in part to keep his fingers nimble, he is 80 this year, and his dexterity hasn't slipped, in spite of his arthritis. A couple pieces he finished this last month or two.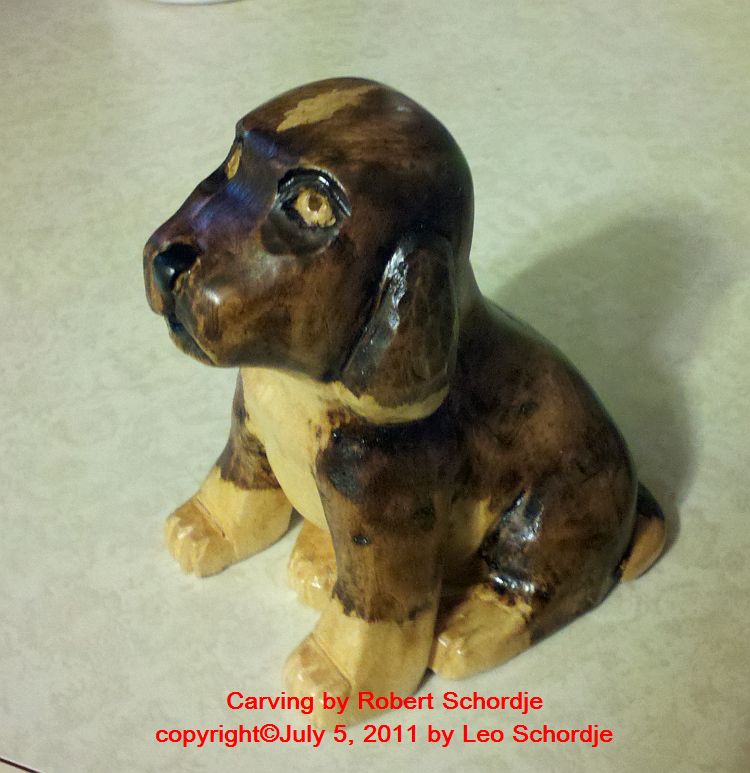 my favorite, a Green Man door knocker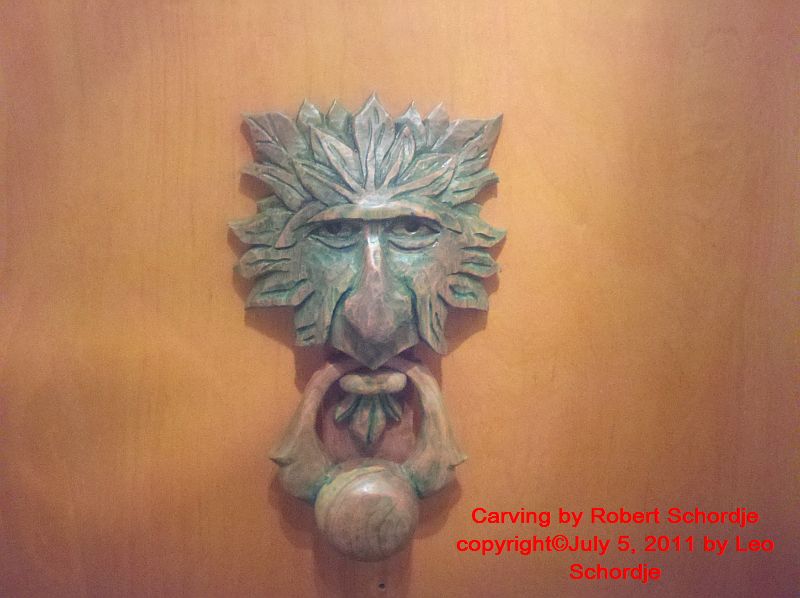 Paph. William Ambler (wilhelminiae x rothschildianum)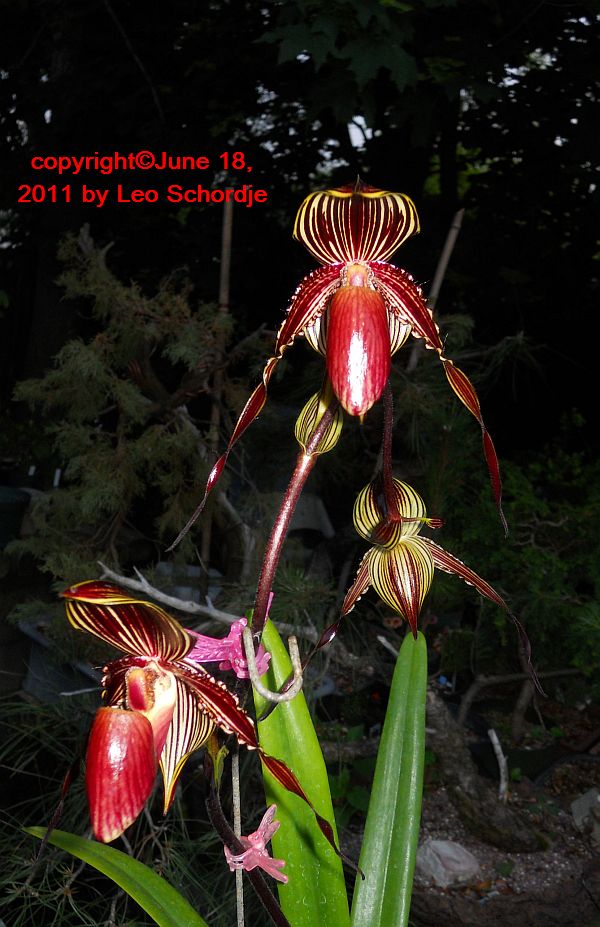 Chaenomeles cv. 'Iwai Nishiki', Flowering Quince.
This is a new to me flowering quince, the cultivar is 'Iwai Nishiki'. The flower is just under one inch across, so this image is much bigger than the flower.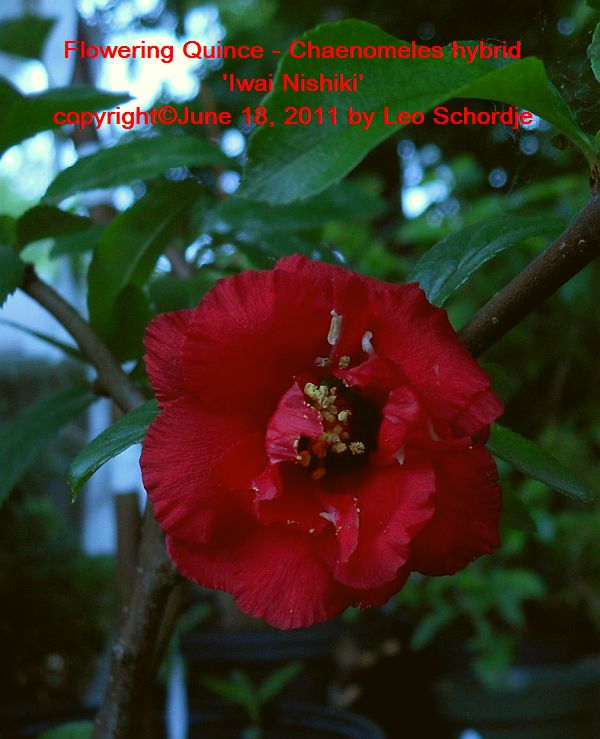 Paph tigrinum 'Windy Hill'
Got this plant from Marilyn Ledoux some years ago, of my 5 surviving Paph. tigrinum, this clone is a reliable bloomer. On this blooming the petals are more curled than usual, which I chalk up to heat stress, as we went from unusually cool to extremely hot this year, without the normal spring transition.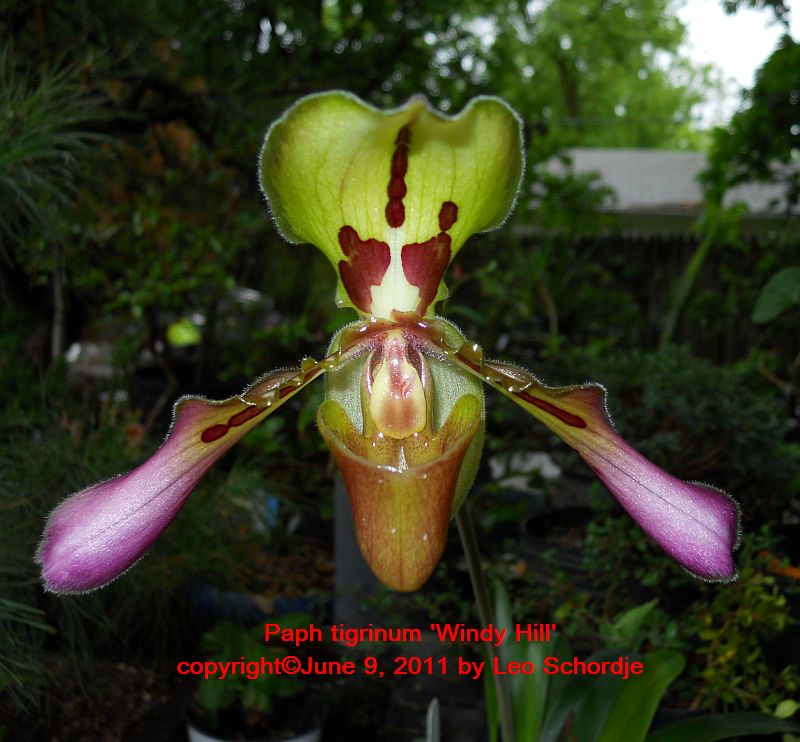 Paph Magic Lantern (delenatii x micranthum)
When the cross was made, it was hoped to be the parvisepalum equivalent of Paph Maudiae. This is a great cross, but most people still find them slow growing, though Magic Lantern is definitely much easier to grow than Paph micranthum. This flower has a natural spread of 8.2 cm, and has a nice full form with a wide dorsal. I really like it.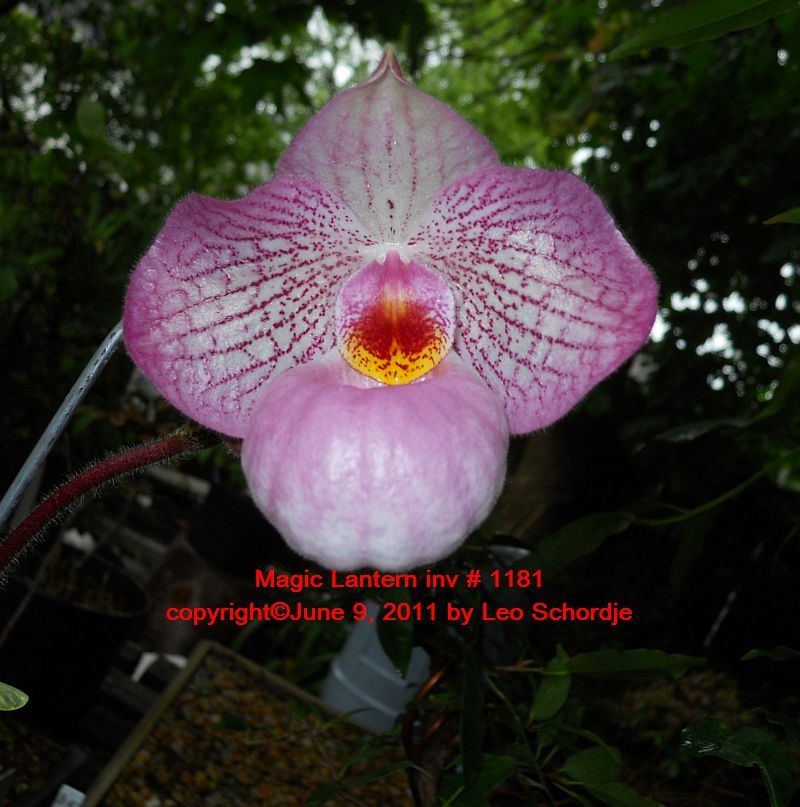 Satusuki Azalea cutivar 'Waka Ebisu'
This cultivar is a soft pink, with random dark coral stripes and occasional coral selfs. The plant is still a young whip, so the full variation of color and form is not evident yet. It can produce hose-in-hose flowers, which are one form of double flowers, but it does not always produce them. Waka Ebisu seems to bloom mid-season. Nice small leaves for bonsai, it will need a decade of growing to become bonsai. In the mean time, I will enjoy the flowers.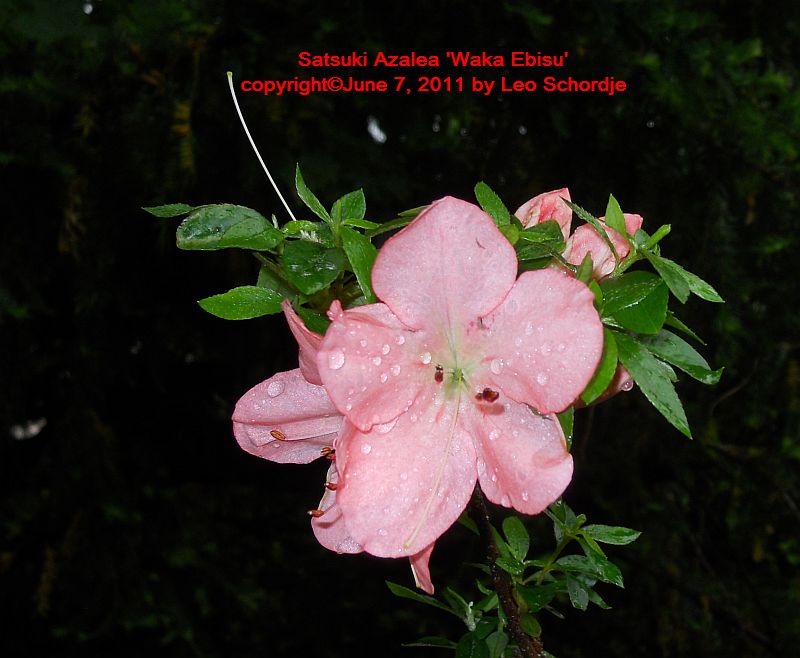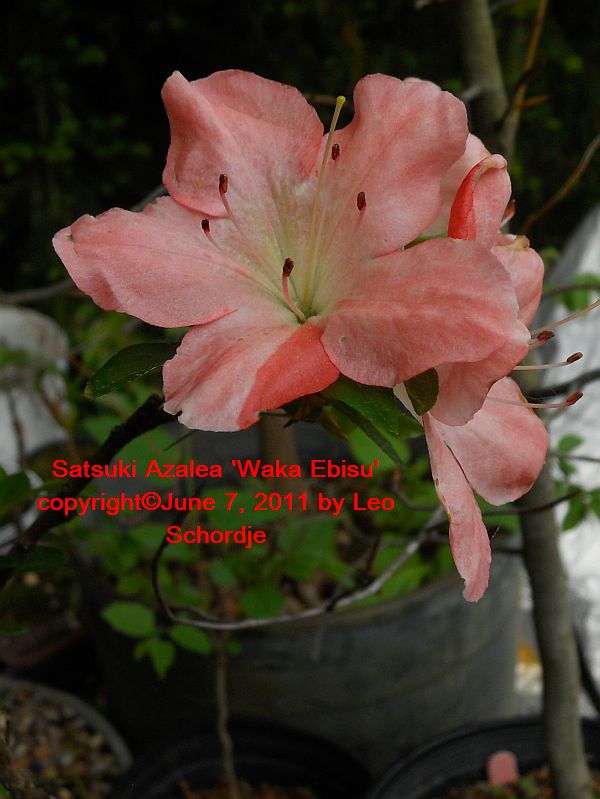 Hoshi-no-Kagayaki
Hoshi-no-Kagayaki is a mid-season Satsuki azalea hybrid, often used for smaller scale bonsai because the flowers are smaller than most azalea. The smaller flowers and leaves give a better sense of proportion when used to make smaller sized bonsai.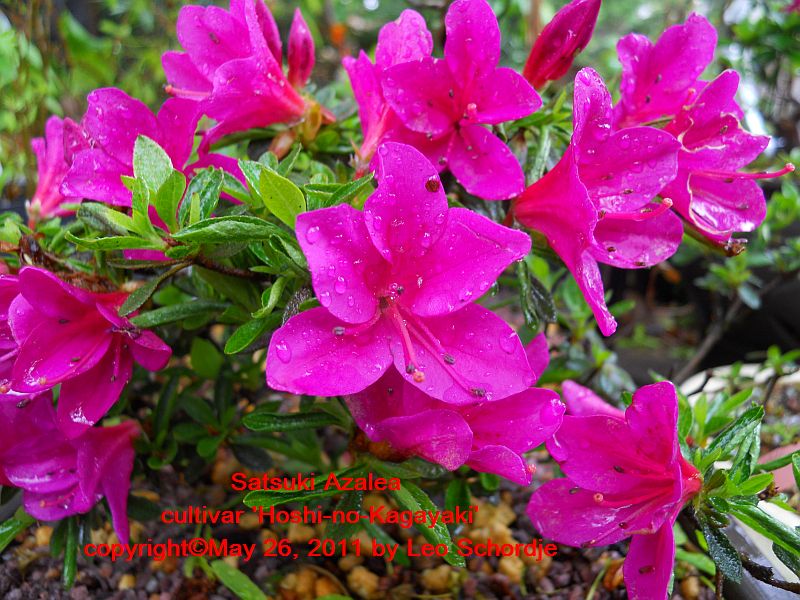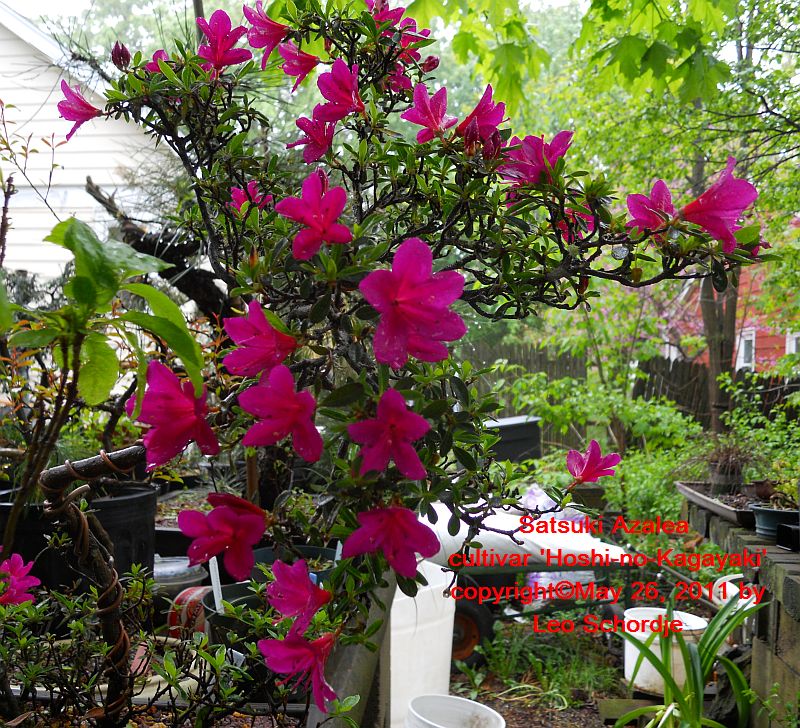 Paph Pink Fred (Fair Fred x primulinum
form
purpurescens)
This is a really cute compact Paph hybrid. They will have 2 or 3 flowers in sequence per inflorescence, which extends their bloom season nicely, upwards of 4 months or more. This is a first bloom seedling, in the future it should improve.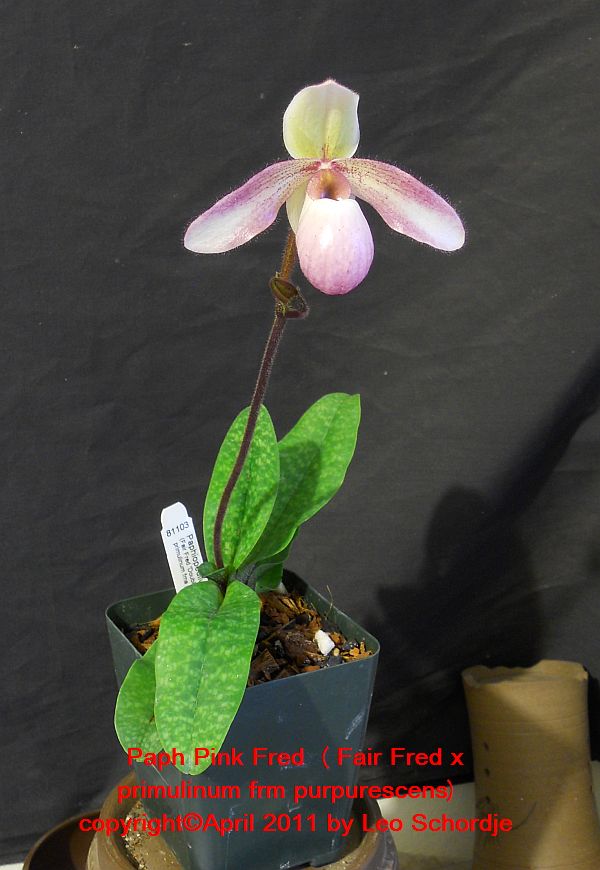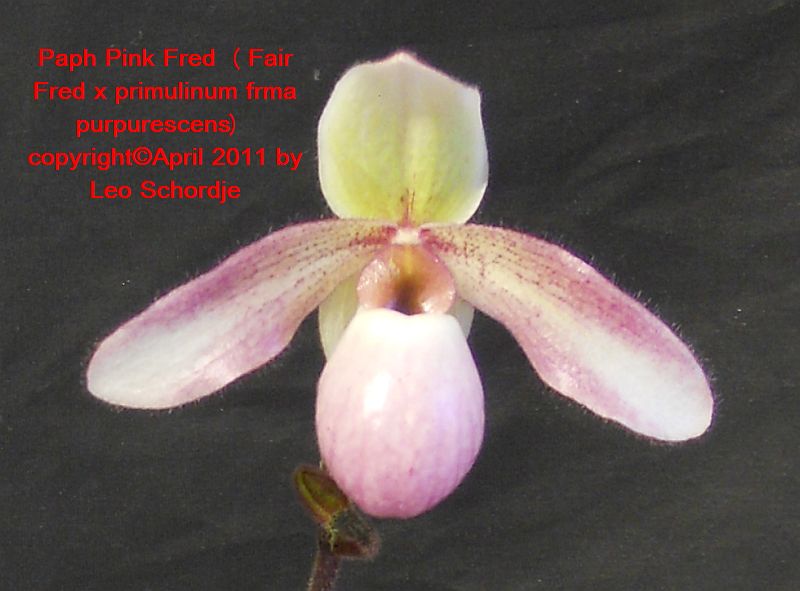 Paph Prelude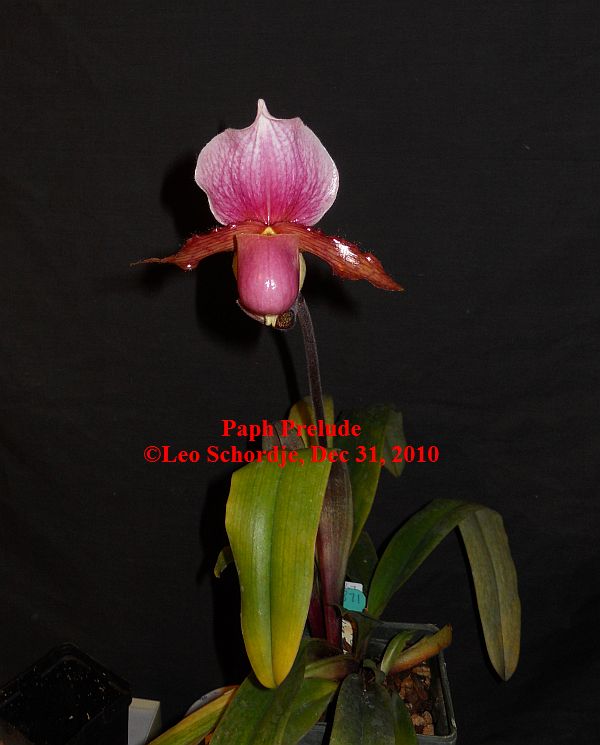 Hoya thomsonii IML-1177
This is a really neat Hoya, very dark green leaves with silver flecks, and fuzzy, coarse fuzz on the upper surface, dense soft fuzz on the lower surface. It is a lax vine, not a strong climber, ideal for hanging baskets. The flowers are few to an umbel, pure white and very fragrant. The fragrance is spicy clove & cinnamon, with a sweet floral note that seems to carry it. Fragrance is strongest at night. The two little flowers in the photo were fragrant enough that one could smell them from across the room. The flowers last a little over one week. The flower close up is not pixilated, the ¾ inch (2 cm) flowers have fuzz also. As Hoya go, thomsonii is a intermediate to cool grower, it does not need the heat some of the others do. It grows well in low light, to moderately bright, it does not need intense sunlight to get it to bloom.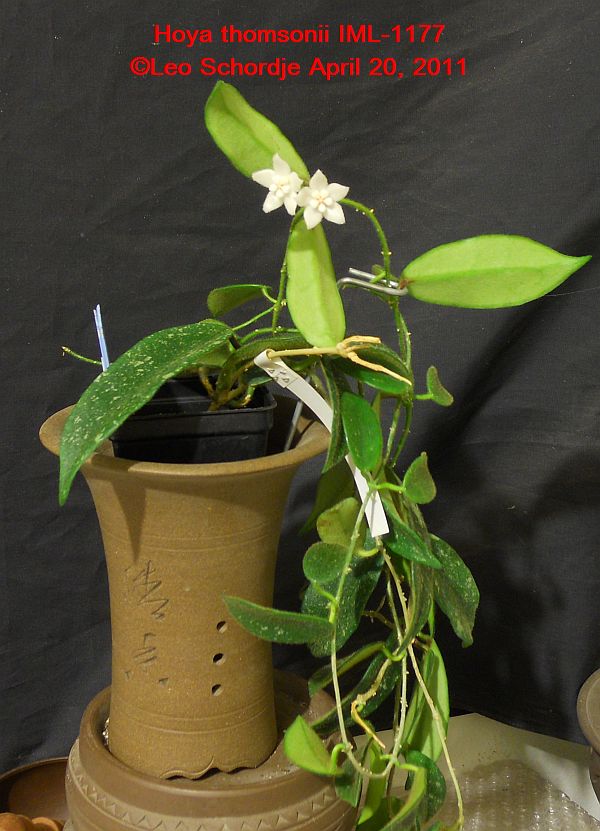 Had to prop the blooming stem up, otherwise the flowers looked down at the floor.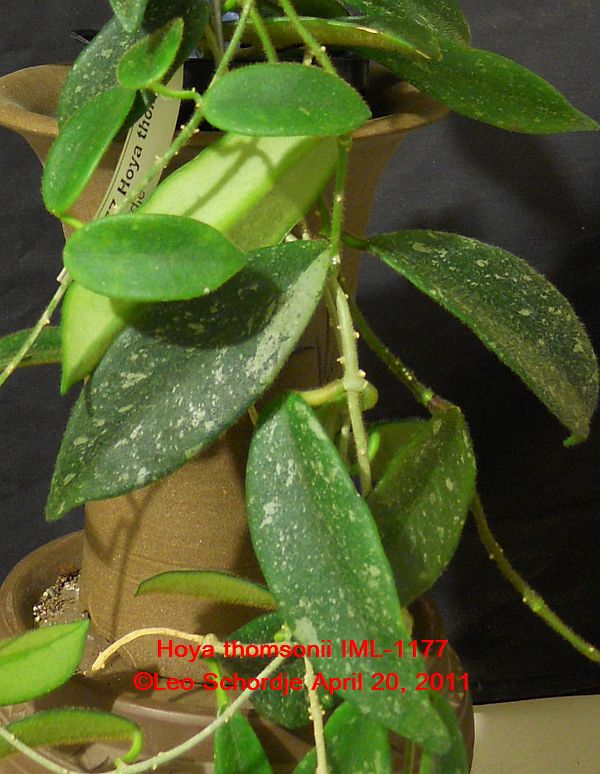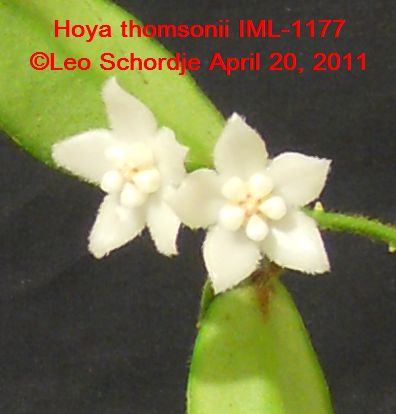 Leptotes bicolor 'Lakeland' this is a real cute miniature, and the flowers have a sweet fragrance too!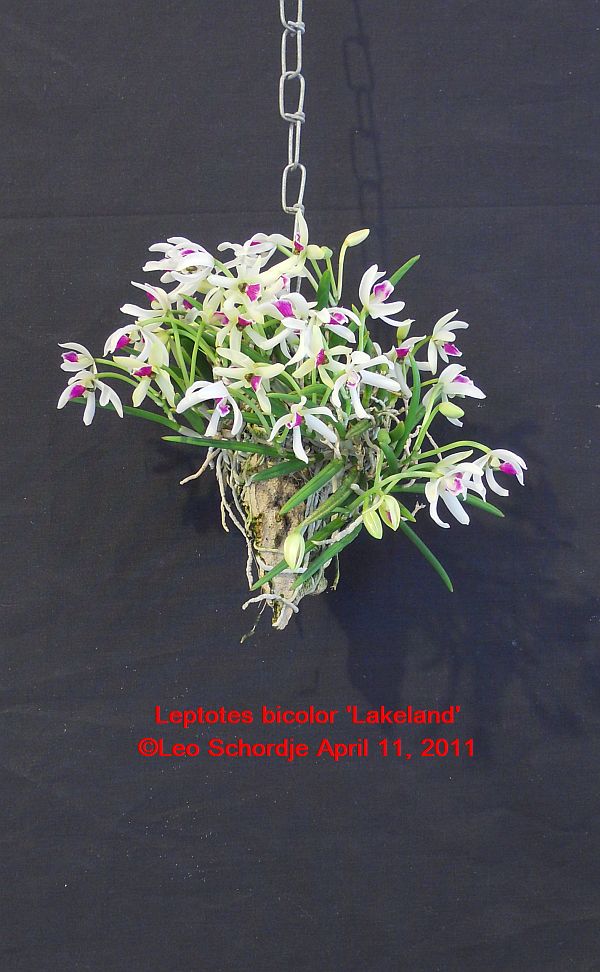 Leptotes bicolor, 2011 above, 2010 below. You can see that the number of growths on the cork chunk has increased significantly in one year.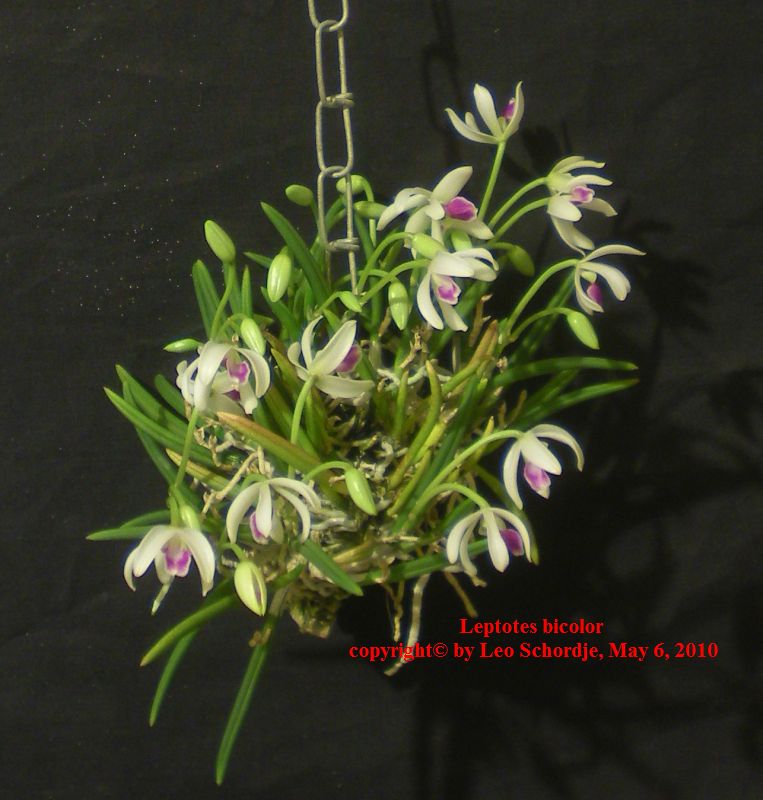 below is the same Fumi's Delight photo'd in 2008

Miltoniopsis Lady Sigrid Karabelnikoff
photographed May 22, 2010, a really nice water-fall Miltoniopsis hybrid by Ivan Komoda. this plant has the best flower of the 6 seedlings I have bloomed. Form and color are there, it has award potential if shown on a more mature flowering.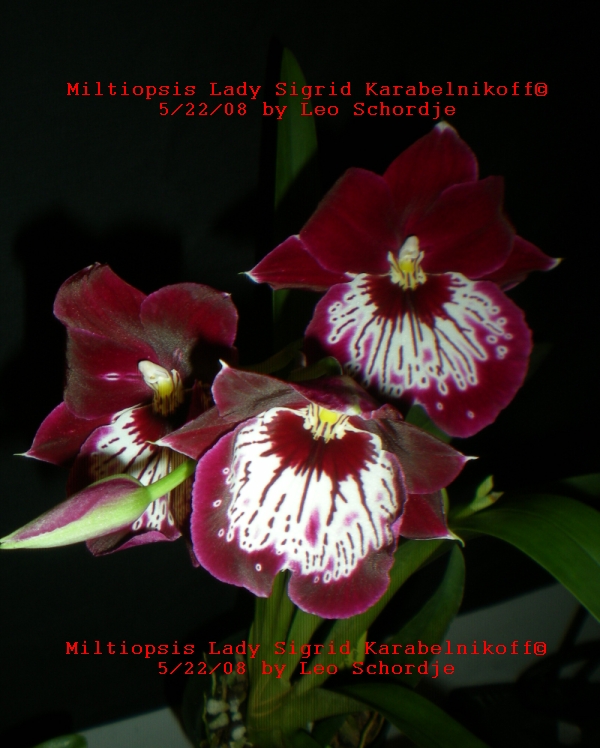 Miltoniopsis Lady Sigrid Karabelnikoff